Welcome to the new Westgate!
Our campus has recently undergone a major transformation to make Westgate Mennonite Collegiate a more accessible, sustainable, and engaging space for our students, staff and community.
The additions of a new atrium, choral space, science lab, fitness centre, and wheelchair accessibility have truly revolutionized our building. The total project cost was $10.3 million.
As of June 2, 2021 we have $1,632,343 left to raise. We are so grateful to all our generous donors – parents, grandparents, alumnae, staff and friends for helping us get this far.
THANK YOU!
We are determined to pay off the remaining amount quickly, and with the support of our community we know we will reach our goal.
Please consider supporting our school with a gift today. Tax-deductible donations can be made all at once, or over a period of time.
To make a pledge, please print & submit the following form:
or…
Donate Now!
"We decided to make a donation towards this campaign as a way of showing our appreciation for all that Westgate has given to our children.  We're proud to call ourselves part of the Westgate family!"   ~ Moni Fricke & Bruce Martin
Learn more about the new 2K1K Campaign below, and how you can help us complete the final stage of the Capital Campaign.
Ozzie's Math
Meet the New Chair
Funds Raised to Date
Thank you to all the generous donors who have helped us get this far!
Raised as of June 2, 2021:
$767,657
Our Total Goal:
$2,400,000
Our New Spaces
Accessible Space
With the installation of a central elevator that opens up all floors of the school to students and visitors, Westgate is now a universally accessible campus. It was vitally important to create an infrastructure that removed any limits when it came to accessing our space.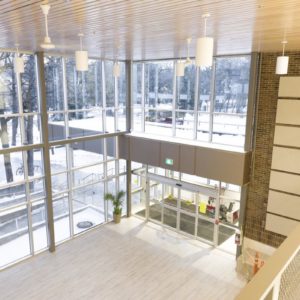 Atrium/Foyer
Enclosed in floor-to-ceiling glass, this bright and sunny common area serves as an inviting entrance to our school and makes all who pass through the front doors feel welcome. Located adjacent to the new atrium is the revamped administrative suite.
Choral Space
The Westgate choirs and bands have earned many awards due to the amazing talent of our students and the outstanding teachers/directors who lead them. By upgrading to a new rehearsal space, our musicians can flourish amongst the vaulted ceilings and panoramic view of the Assiniboine River.
Science Lab
An additional science lab has been created in order to inspire scientific exploration. Here, our students are better equipped to delve into their passion for science, and develop a greater understanding of their physical world.
Fitness Centre
At Westgate, we motivate our students to develop good habits around wellness and active living. Now, with our new fitness centre, we can combine athletics with outdoor recreation as well as opportunities for individuals to carry out their own active living routines on daily basis.
Faces of the Spaces
Here is just a small sample of the stories of gratitude we are hearing from staff, students and family.
Carrie Schulz
"Throughout my time at Westgate, my love for music, and especially singing has increased tremendously. Having this new peaceful and calming space to make music has really helped that passion to grow. I am grateful to be able to make music in this community."
Heidi Redfern
"Upon returning to the school, I was thrilled to see the beautiful new building. The elevator was of particular significance to me, since when I attended Westgate my dad was unable to move around the school and watch me play sports, attend all school chapels or awards ceremonies, or go to parent/teacher interviews. That barrier to accessibility has been broken down with the new building. Now, parents and students with physical disabilities will be able to participate fully in all that Westgate has to offer!"
Isaak Fast
"Being back at 86 West Gate and having access to all the science labs has made learning much more hands-on, accessible, interesting, and easy. I walk out of class every day amazed at how much we accomplished. It really helps showcase everything Westgate academics has to offer."
Cael Penner
"The workout room for me is another place at Westgate where you gain camaraderie with the tight community of students. There is nothing better than collapsing on the ground beside a friend after pushing yourself to the limit, knowing next time you can go a little further."
Nicholas Harder
"Westgate has always been a nurturing, inclusive, and caring school, and Westgate's new atrium embodies all of these values. The Atrium is a great place for students to work, study, share ideas, and simply enjoy each other's company. It is also frequently used to showcase the arts, whether that be listening to the Westgate choir and bands performing for the staff and student body, or displaying the amazing artwork of Westgate's art program."
Capital Campaign Committee
Ozzie Rempel (Chair)
Bob Hummelt
Henry Dyck
Alexis Dirks
Krista Neustaedter Barg
Tracy LeClair
A Message from the Committee
First, we want to thank all donors who have helped us get this far. While we have raised a substantial portion of the funds required already, we are not yet finished — we still have several million dollars to go. It is a goal we will achieve because we have you, our determined, dedicated fellow community members.
We'd love to hear your thoughts and ideas about how to make this capital campaign a success. Contact Ozzie at orempel@westgatemennonite.org.